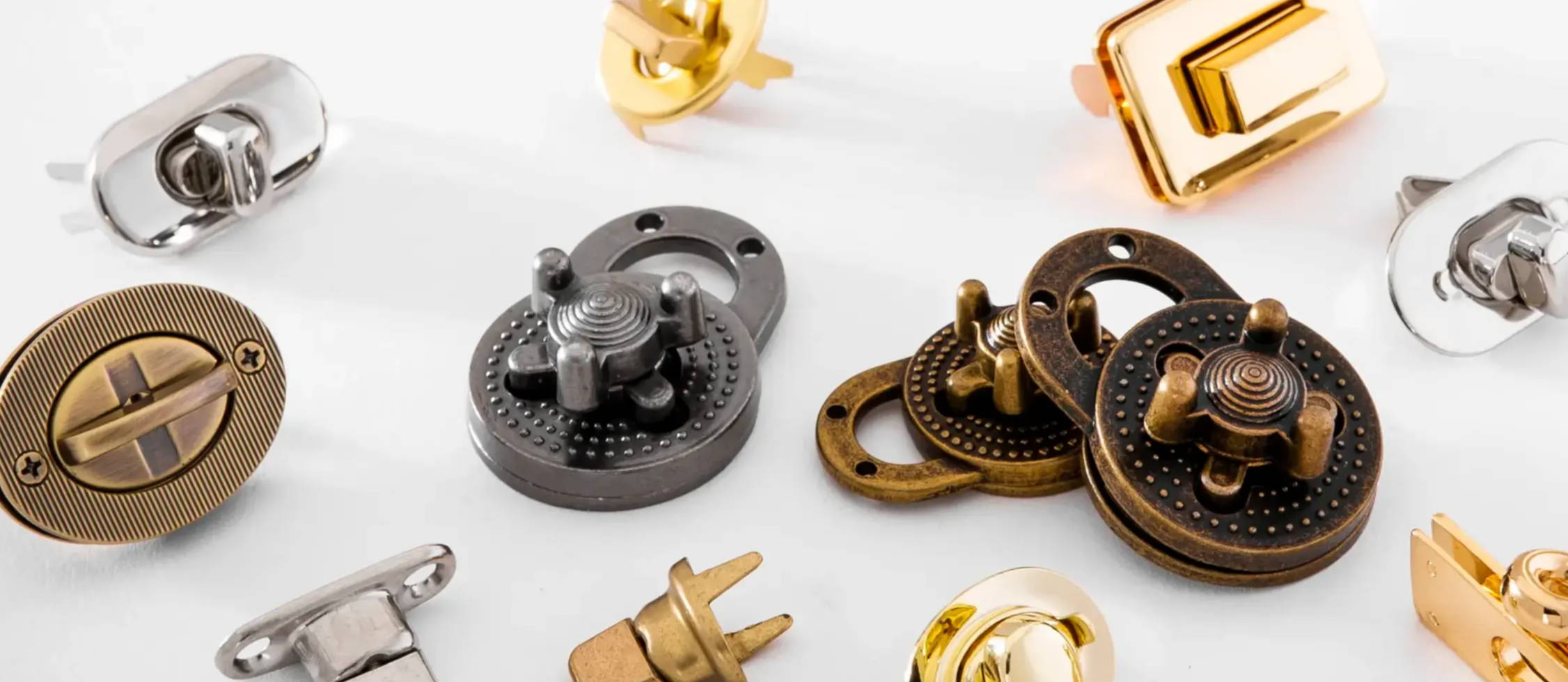 Turn Locks: Parts, Types, & Styles
Turn locks are one of the most popular choices of purse locks for bags. When it comes to choosing a handbag lock, the turn lock is one of the most durable and comes in a variety of material, such as solid brass and zinc. There is also a wide variety of sizes that give you a lot of flexibility for different types of bags. Turn locks are also commonly found on many designer bags today. The simplicity of setting and the overall composition of the lock itself all combine for a purse lock that both looks great and does its job effectively.
There are many different styles of turn locks to choose from and vary from modern and sleek to antique and rustic, the number of choices should make it easy to find that perfect fit to match your project!
Try the coachman lock, a timeless look that will bring style and class to your high-end bag design.
Try an antique, vintage look with our flap style turn lock available in antique brass, antique nickel, and standard nickel, gold, black and gunmetal. This lock attaches to the flap or opening of a bag that twists shut and latches the lock plates together. This is a great option for adding a special, eye-catching feature to your design!
If you're looking for more of a modern look, there are square turn locks, circle lock plates with diamond shaped locks, and shiny rainbow finished locks. There are so many more options that fit that modern look you're searching for, you can search turn lock collection for more options and find over 60 types of shapes, colors, and styles.
Check out our LUXE style lock plate!
Parts of a Flap Style Turn Lock
Jiffy Rivets:
Typically, small, or medium jiffy rivets to fasten the lock plates to the body and flap of your bag.
Front and Back Lock Plate:
The back lock plate will typically be attached the turn lock and will fasten on the body of the bag. The front lock plate will fit over the back lock plate and is usually used on the flap or opening part of the bag.
Parts of an Embedded Turn Lock
Front and Back Lock Plate:
The two lock plates are embedded in the leather or material being used for your bag and are fastened by a screw or washer.
Screws:
Usually, two or more screws that fasten the two lock plates together once positioned on the bag. You can tighten this the best you can, or use a little bit of Loctite glue to ensure it stays in place!
Washer:
Washers are used on turn locks with prongs that hold it to the fabric or leather. The prongs will be bent over the washer to keep it in place.
Ohio Travel Bag Workshop
How To Set an Embedded Twist Turn Lock
Like what you see? Below are the items used in this video.
---